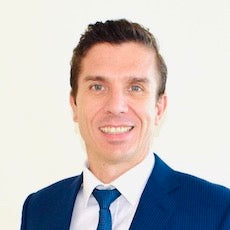 Hello, I'm Mr Dirk Laubscher
Dirk Laubscher is the CEO of Rejuv Wellness with over 20 years of experience as a  Musculoskeletal Physiotherapist and is highly respected in his field.

Dirk arrived in the UK in 2001 and specialises in treating backs, necks and sports injuries. Dirk is passionate about seeing people healed and set free from the vicious cycle of pain.
Dirk was the owner of The Back Clinic on Harley Street for over ten years which has now been merged and rebranded as Rejuv Wellness. Dirk formulated a unique rehabilitation protocol combining 'The Laubscher Method' and MedX® (available only at Rejuv UK & UAE).
Dirk has treated various celebrities, including Lily Allen, Sinitta and Helen Mirren, West End musical actors, professional ballet dancers and singers. Elite athletes such as Michael Clarke, the Australian cricket captain, premiership football players and England's rugby team players are also among the distinguished clientele.
Dirk has a very practical and functional approach to pain and injury and focuses on treating the cause of the problem, not just the symptoms, bringing about permanent results. Being a past elite athlete, Dirk understands the workings of the body, supported by his manual therapy and rehabilitation skills.
Dirk Laubscher regularly features in media articles and writes for Men's Health and other top London magazines.